Week Three – opening a window to painting
I made the decision to begin a new series of paintings last week.  I was thinking about Richard Diebenkorn's brilliant Ocean Park series, except I'm in Manchester, so the light is very different, I've got the fading Autumn season in the earthly sense and the earth's tilt to consider as we get much less sun and a very cold sky.  I've got to credit this studio situ project for igniting these ideas, the paintings are about the windows, the light, the sky and what I can see on the horizon.  So here are my first four WIP paintings.  I feel at this point they've already moved away and into my own territory.  I've enjoyed layering colour, working with some of Diebenkorn's ideas of laying whites over colour and incorporating a sort of grid, all be it much less straight and more or less freehand,  I've also used my own preference for the square and within this cropping in and creating margins which expose sometimes previous layers and presenting an outer tension that seems to hold the inner painting and offer a deeper more satisfying drench of colour against the translucence of the inner image.  I'm also bringing some references to the frames of the windows.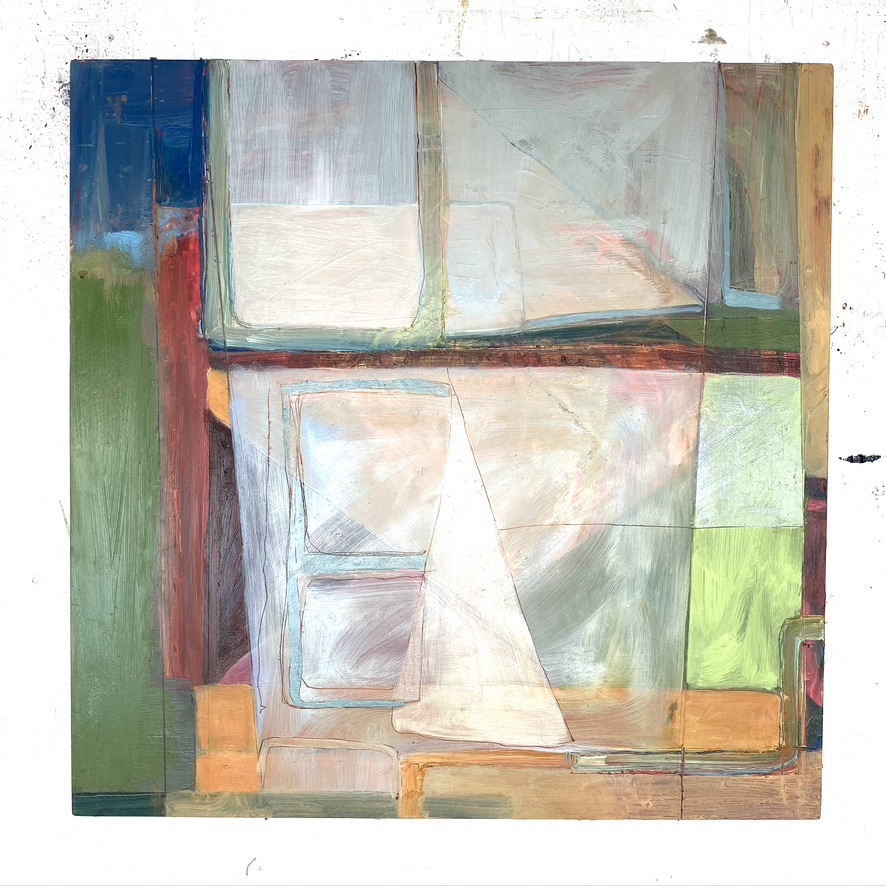 Week Two – new ways of seeing
This week I started by cropping the lower windows by taping paper onto the two panes at either side of the middle.  Closing into a narrow view and restricting what the eyes can see – which is surprisingly so much, and I've taken photographs of this window using different viewing points.
.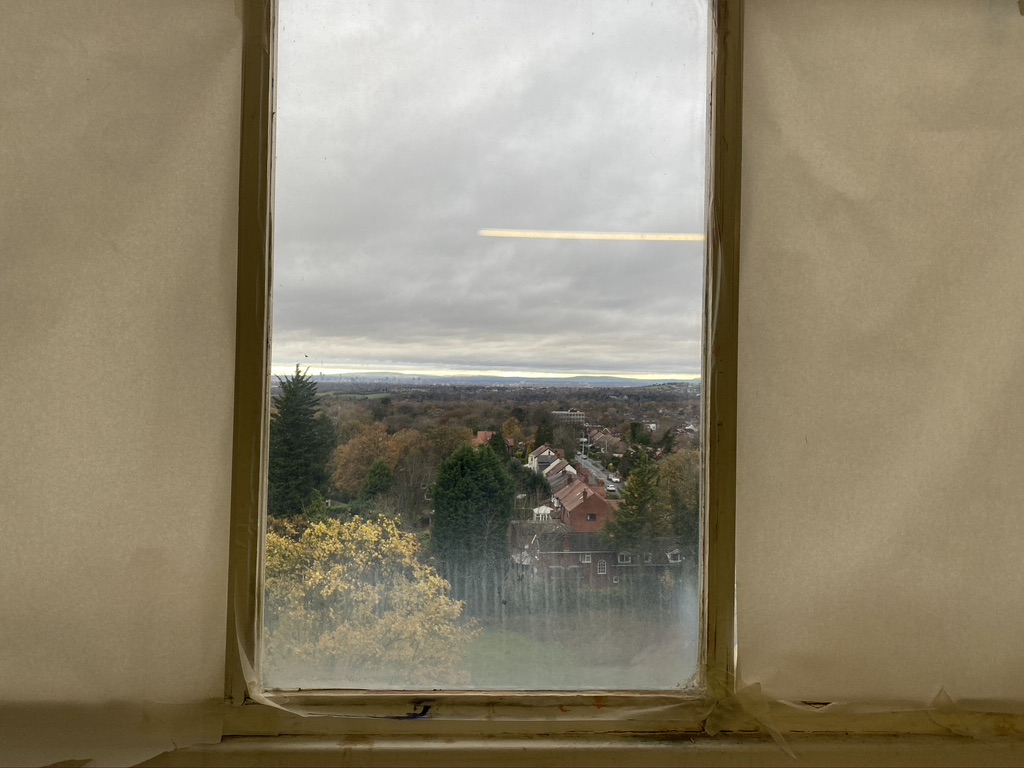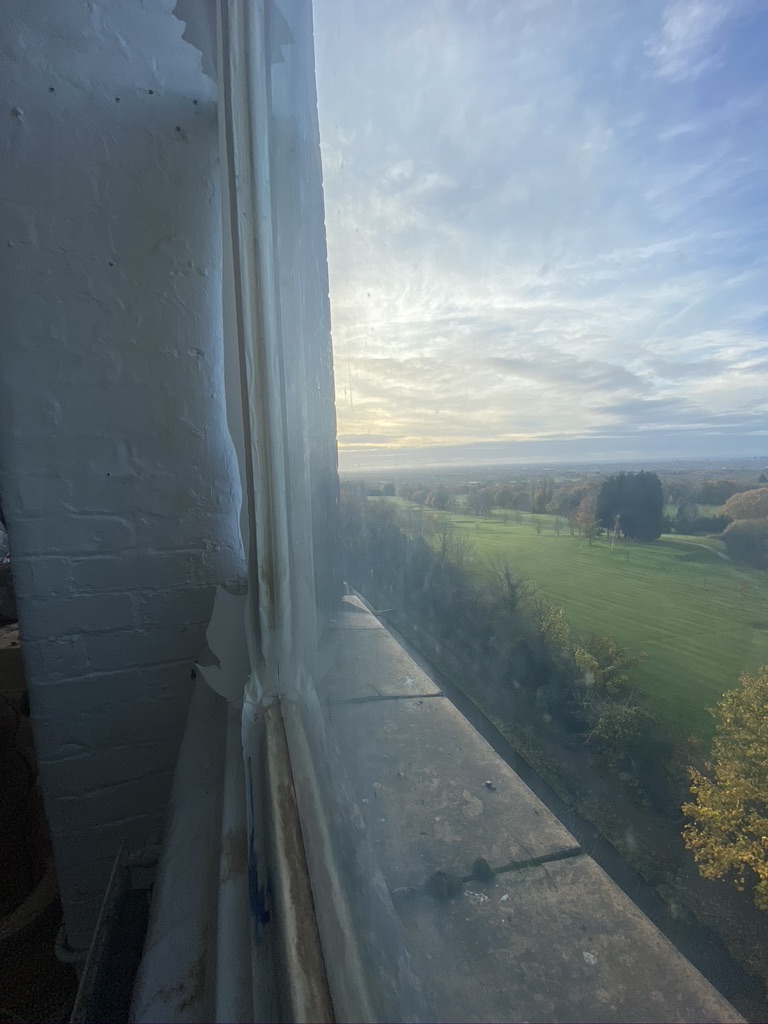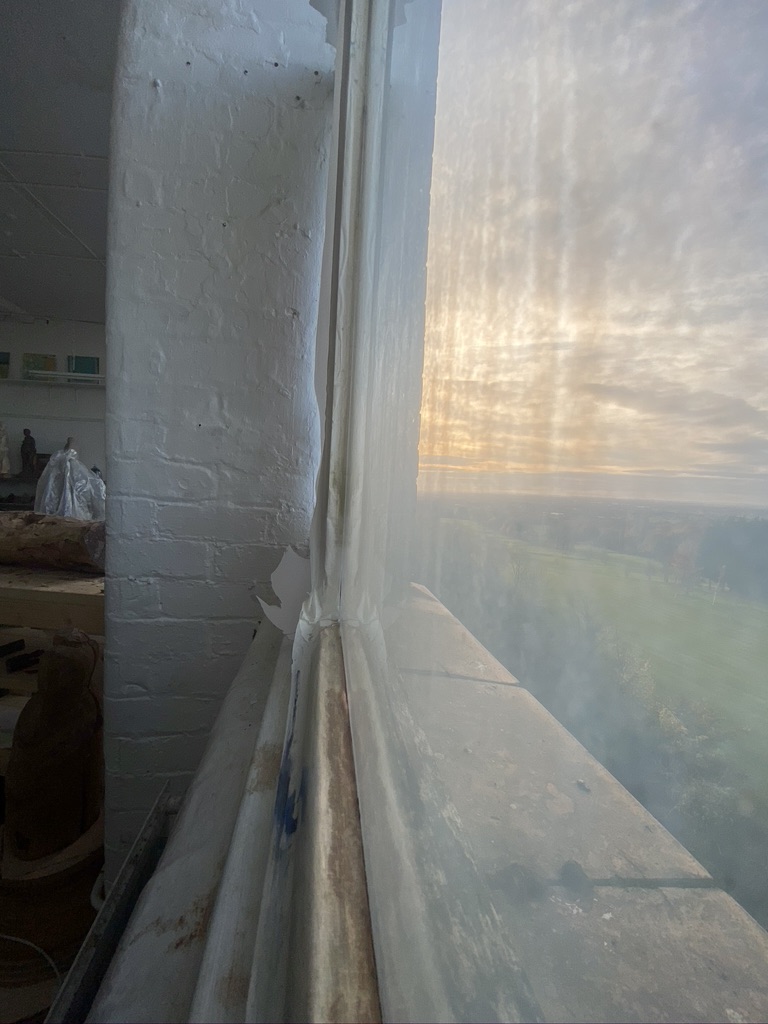 I am doing this project in my studio space as a playful sideline to my painting practice.   Already the project is influencing my painting and I am using this cropping and playing around with edges and framing .  I am also thinking about the canvas as a window.
One of my favourite painters comes to mind, that of Richard Diebenkorn.  I have been painting from my own Northern landscape, the cold light and the weather moving across the sky, which changes by the minute, in the style of Diebenkorn's Ocean Park series.  I am seeing my landscape through his eyes, or through his painting, but not necessarily his process, so I am starting from the point of his finished works rather than how he starts to make a painting and my aim is to watch and learn from my own responses and decisions about whether to follow Diebenkorn's course or divert it.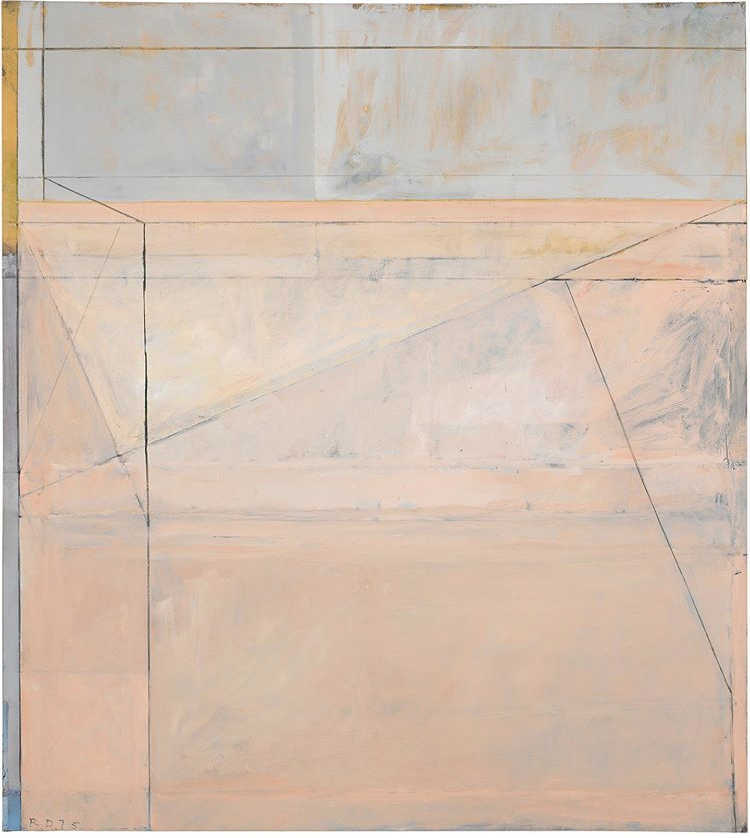 Credit: Richard Diebenkorn, from the Ocean Park series
Next week I will post some of my paintings and I will return to the window for more interventions.
Week One – turning to face the window
Here I will be documenting a project about the studio space I am occupying in Goyt Mill, Marple.  I am alternating this with my painting and drawing practice.  This will be a weekly record of what I have been trying out.
It's become quite a useful exercise because I'm still quite new to the space and it is helping me to settle in and get used to my surroundings.  When painting I am facing towards the wall opposite the big windows.   Just in the process of turning to face the window, my experience of being in that space has completely altered. The big windows look out across the landscape towards Manchester city centre on the horizon.  The sky is in constant flux and weather seems to move across this window-screen;  clouds, rain and the sun piercing through to illuminate parts of the landscape.
Being drawn to this cinematic window and what I can see beyond it, I have been painting onto the window, firstly responding to the landscape and the sky and then later in the week, at the moment when the sky seems at its most theatrical I started to draw figures in outline, opening up the sunset sky within and around the figures.
Each window painting has been printed onto paper to record the image.  It feels at the moment these are not important.  They are a record of the mark making and the process, but as yet I am not concerned with these mono-prints.  They may come in useful later.
Having a crit group to talk to about this project at this stage has been useful and some interesting things to think about have emerged.  It has also encouraged me to continue to play around with some ideas I have been thinking about.
A suitcase of old family photographs that I brought into the studio
The places I have lived around Manchester (movement and maps)
Time
Window as frame, device in the history of art and literature