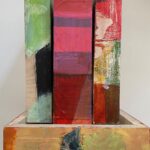 As someone who loves a different environment to work in, I'm really happy to be working in Manchester city centre for at least the next seven days in an empty retail unit at the Great Northern Warehouse* on Deansgate.
I have lived and worked in and around Manchester all my life and I have seen it change so much over the years.   The first of these seven days I have felt like I am exploring a new city again, after spending a year away during Covid, vistas have changed,  the gaps between buildings have been filled and beautiful disrepair has crept into old and familiar places.
Hearteningly there is dissent from Buddleia branching out from brick arches and graffiti drawing on damaged and worn out places, like enchantments that sit defiant amongst the new and hardened high buildings, the uncompromising city skyline.
In my head I bring the window grids I have been painting over the last 10 months, along with physical materials, paints and blocky panel supports handmade from leftover timber, some of these are already unresolved mixed media works that I am recycling.
This is an opportunity to re-examine my practice by working in a different environment and the shop will be the place where I will make work that responds to the city.  After my residency the shop window will display the final work for the summer.
*The Great Northern Warehouse is the former railway goods warehouse of the Great Northern Railway in Manchester city centre, England, which was refurbished into a leisure complex in 1999. The building is at the junction of Deansgate and Peter Street. It was granted Grade II* listed building status in 1974. (Wikipedia)
https://www.thegreatnorthern.com/