My window installat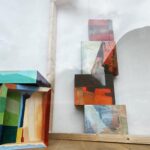 ion at 285 Deansgate, Manchester is now live until 31st July 2021.
Manchester's escalating skyline and new vistas along side streets and arterial routes like Oxford Road, became my subject matter as I produced the work over seven days in a satellite studio in an empty shop in the Great Northern Warehouse building..
My aim was to capture the city's colour palette, painting abstract compositions onto blocks of recycled wood, suggesting red brick buildings and the blue-green gaze of glass towers in architecturally framed vistas.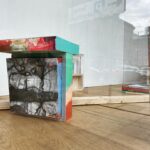 As part of this residency, which has been generously supported by Great Northern Warehouse, I have also invited artist, Babs Smith, an artist based in Salford, to respond to the work and local architecture.
Babs is currently developing her piece reflecting on the changing architectural landscape of Manchester, digitally. She uses an AI algorithm and Virtual Reality software to create an abstract interpretation of these changes and their effect on her perception of the location.
To see a project diary of this residency go to https://www.instagram.com/dez_rez_projects/
For enquiries email dezrezprojects@gmail.com